The cream has the ideal sweetness and is carefully spread on a crunchy tart, buttered to perfection. This is the first feeling you get. In Fotis Potouridis' Pasteis de Nata, in the area of Ano Ladadika, we tasted the national Portuguese dessert and enjoyed the aromas of cinnamon, lime and some citrus fruits right from the first bite.
This is how the story began; in 2019, Fotis Potouridis decided to spend fifteen days in Lisbon. There, he tasted the best pasteis de nata in the whole world, since every coffee or pastry shop makes its own version of the dessert. On his way back, his mind was already made up. He spent countless hours in the kitchen experimenting and even attended online cooking classes offered by Harvard. He finally managed to get the desired result and opened his shop, where they only make the sweet version of pasteis, but will soon also add a salty version.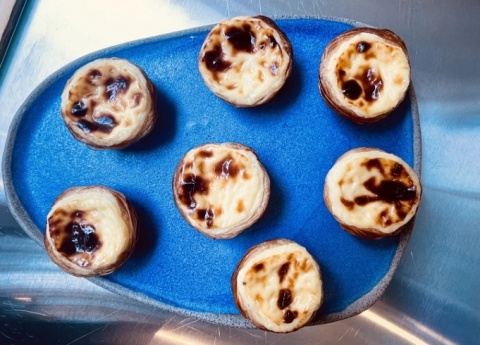 From his home town to Lisbon, the road is paved with milk pies, rice puddings, Greek galaktoboureko, Greek Panorama triangles and many other similar variations of pasteis de nata, which, according to the Guardian, are one of the 50 "best things to eat" in the world. Thus, Fotis took a calculated risk in opening a shop that only sells one "thing", the national dessert of Portugal, on one hand, because Thessaloniki has finally evolved into an international gastronomic destination and, on the other hand, because the sweet taste of this Portuguese delicacy is very close to some of the traditional Greek custard desserts.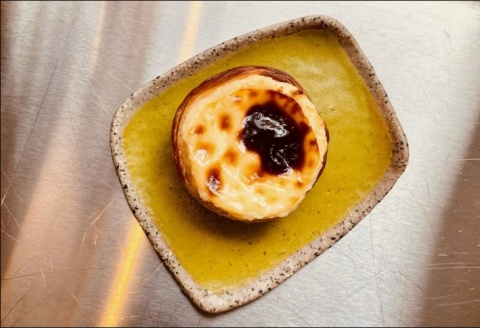 Pasteis de Nata opens every morning at 10, while each baking tray strictly contains twenty pieces, each piece costs 1.5 euros, and takeaway orders take half an hour to bake at the right temperature. No matter how much we begged Fotis to reveal his secret beyond the known recipes, he politely refused.
Pasteis de Nata, 2 Syggrou Street, Thessaloniki