From the eight pizzas on the menu of Salento street food, our two most favourites are Di Salento with tomato, mozzarella, rocket, prosciutto crudo, parmesan flakes and truffle oil, and Speciale with prosciutto cotto, fresh mozzarella, mushrooms and pistachio mortadella. Welcome to the most Italian spot of Venizelou Street, where those who prepare and serve the pizzas might as well be called tenors and not just expert bakers.
Carefully baked in the wood-fired oven, where the fire crackles and produces the perfect, fluffy and crispy dough, the pizzas and the rest of the delicacies that you can taste at Salento justify the crowds that gather here daily.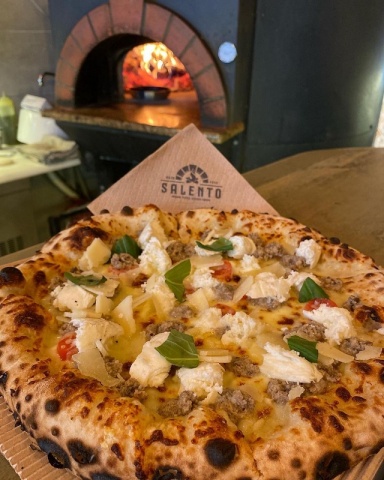 Along with its speciality, which is Lasagna Bolognese with tomato sauce and deliciously marinated minced meat, Salento is considered a classic Italian street-food spot in Thessaloniki, where people appreciate authentic flavours. And, believe us, here you will enjoy a unique tasty experience.
At Salento, they do not take reservations, the place is casual and is determined to stay that way.
We could use various clichés to describe it, like "the most famous Italian sandwich place in the city", but it's quite a shame to characterize it with stereotypical definitions. So instead, we just suggest to also try the sandwiches they prepare, starting from our favourite Pueblo with mixed country sausage, onion, mushroom, tomato sauce, anthotyro (fresh Greek cheese) and mildly spicy cheese salad ragout.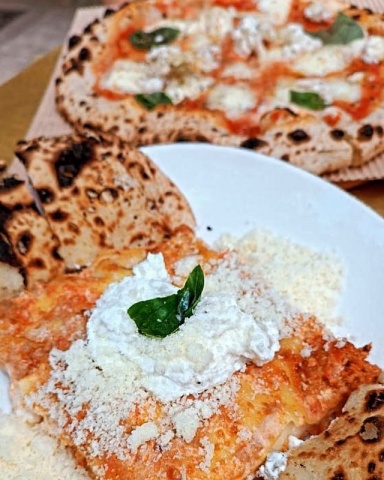 Another delicious option is the one with pork tenderloin, roasted vegetables, mustard sauce, iceberg lettuce, cherry tomatoes and mozzarella. Equally delicious, despite being vegan, is the vegan sandwich with pumpkin purée, eggplant, rocket salad, truffle pâté and vinaigrette sauce.
76 Eleftheriou Venizelou Street, Thessaloniki, Tel. 2310 230861